MULTI-FAMILY
The Architects at POLYPHON Architecture & Design have extensive experience on multi-family housing projects before and while at POLYPHON. A particular specialty has been unique, contemporary mixed-use projects in the higher-density, urban neighborhoods within Portland and surrounding communities. Polyphon takes pride in delivering quality at all phases of a project, from the design, construction documents and construction administration. Below can be found a few examples of our most recent multi-family projects.

RELATED BUILDING TYPES WHICH YOU MAY ALSO FIND INTERESTING :
MIXED-USE/COMMERCIAL or RESIDENTIAL
CASCADIA TOWNHOMES
LOCATION: HOOD RIVER, OREGON
SIZE: x6 NEW TOWNHOMES (3 BUILDINGS)
STATUS: COMPLETED FALL 2018
BUILDER: ETHAN BECK HOMES
A new townhouse community in the heart of Hood River.
Visit CascadiaTownhomes.com to find out more about this project.
JERSEY 6 - TOWNHOMES
LOCATION: ST JOHN'S; PORTLAND, OR
SIZE: x6 NEW HOMES
STATUS: DESIGN REVIEW APPROVED
At the gateway to downtown St.John's, Jersey6 is a new townhouse project creating six units at price points which are quickly disappearing in much of the city. These units all provide ground floor entries and private outdoor areas. The challenges of this project include Type II Design Review, balancing density with the context of the neighborhood and keeping construction and materials straight-forward and long-lasting.
MICHIGAN CO-LIVING
LOCATION: N PORTLAND, OR
SIZE: x3 NEW HOMES + x1 EXISTING HOME
STATUS: UNDER CONSTRUCTION
BUILDER: OWEN GABBERT LLC
A unique project in the Mississippi Conversation District which preserves an existing neighborhood home while adding innovative community based density. Three new homes w/ individual bedroom suites are centered around shared outdoor spaces. The existing building houses shared amenities and gathering areas.
This project is a collaboration with Owen Gabbert LLC and OpenDoor.
GLADSTONE APARTMENTS
LOCATION: PORTLAND, OR
STATUS: UNDER CONSTRUCTION
DEVELOPER: GREEN LIGHT DEVELOPMENT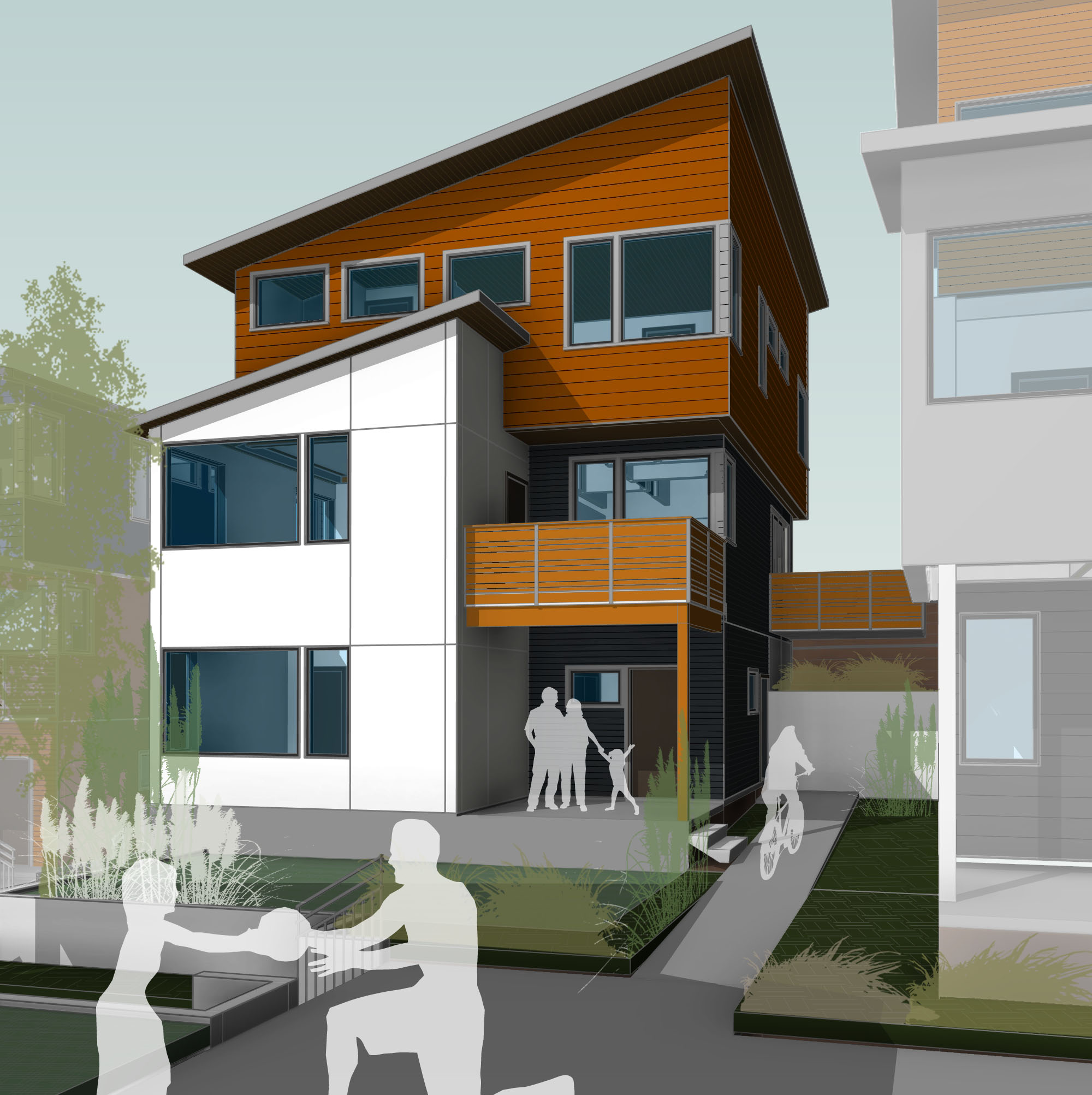 TABOR TERRACE
LOCATION: PORTLAND, OR
STATUS: UNDER CONSTRUCTION
This project for Green Light Development in collaboration with Ethan Beck Homes LLC is an urban subdivision on the west slope of Mt Tabor. The site presents a host of challenges and opportunities. Multiple street frontages, steep terrain, numerous trees and incredible views. Polyphon is working from start to finish to help master plan the project, work through the land use processes, and design the individual houses. Each house will be a unique contemporary design with a focus on pedestrian friendly homes with a real sense of community. Six of the homes open onto a series of shared communal courtyards and gardens.
For more information please visit: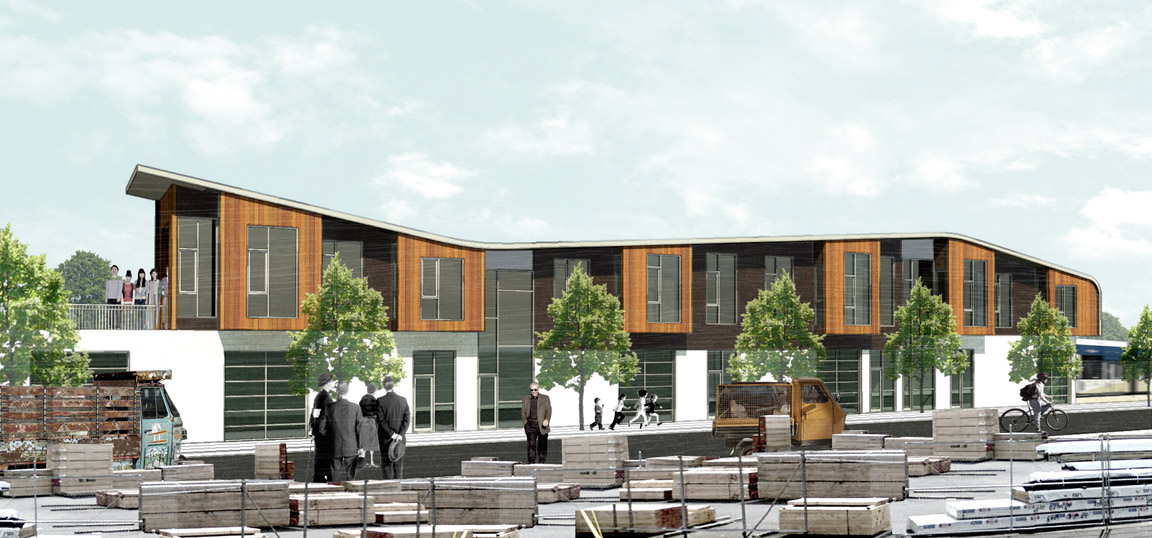 GIDEON STATION
LOCATION: SE PORTLAND, OR
SIZE: 40,000 SQ'
STATUS: UNBUILT - REQUEST FOR PROPOSAL
This project is a response to a Tri-Met request for proposals for a 18'x600' parcel that will be left over after the construction of a station on the new Milwaukee light-rail line. The proposal was for a combination of small artisan retail/work spaces, with residences above, along with another building consisting of creative office space. The design worked to take advantage of the oddly proportioned lot with building and construction types that respected the current light industrial neighborhood. Additionally, it was important the proposed buildings be cost-effective to construct.
This proposal was done in conjunction with IDEA Architecture + Development, LLC and Fowler Andrews, LLC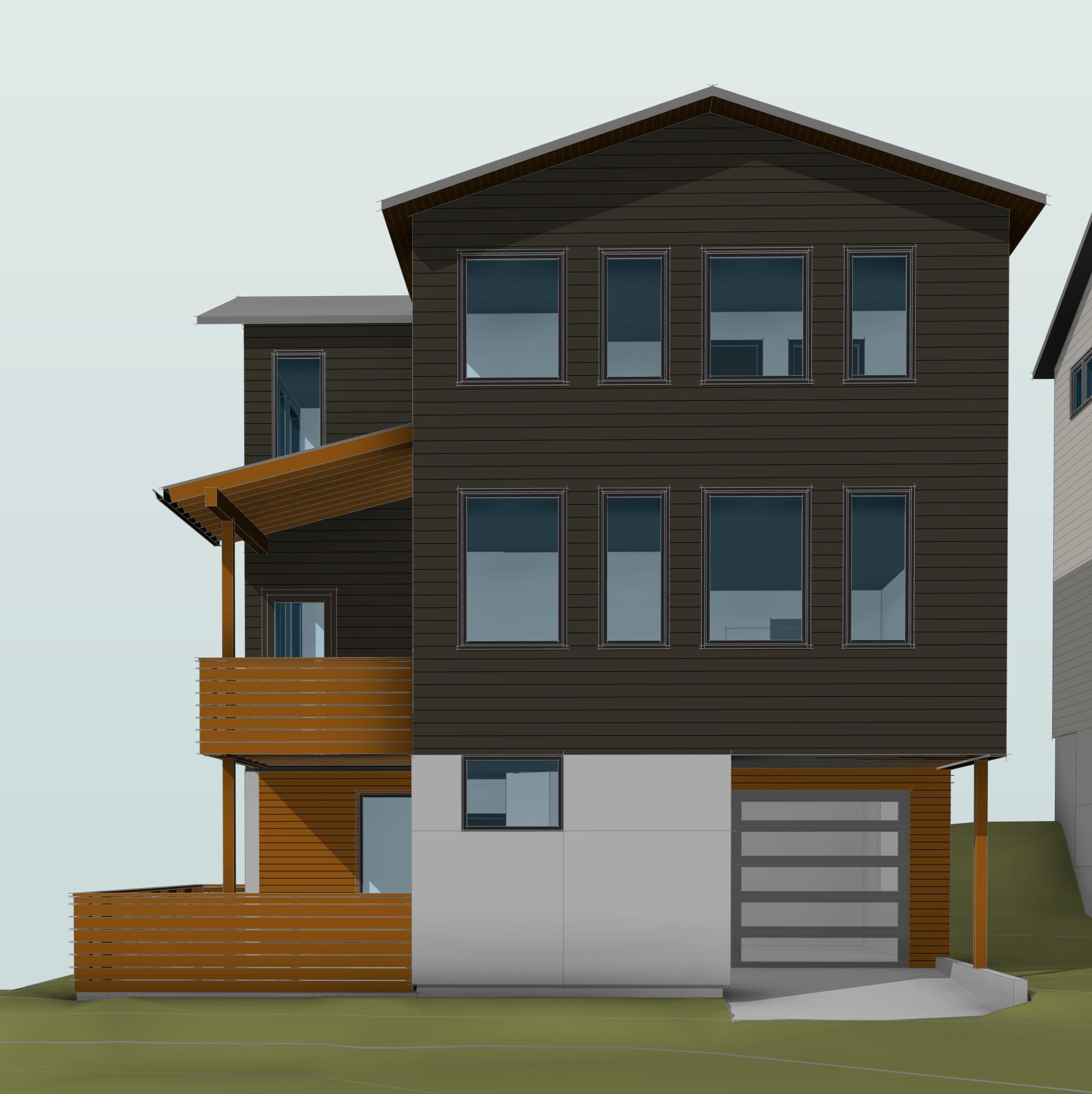 SE CLINTON HOMES
LOCATION: SE Portland, OR
STATUS: COMPLETED - 2016
CONTRACTOR: ETHAN BECK HOMES
Two new for-sale homes on a corner lot in the quickly developing SE Division neighborhood. These homes aim to respect the context of the traditional residential neighborhood fabric but without being faux-historic. The homes also provide modern layouts and ample access to outdoor spaces.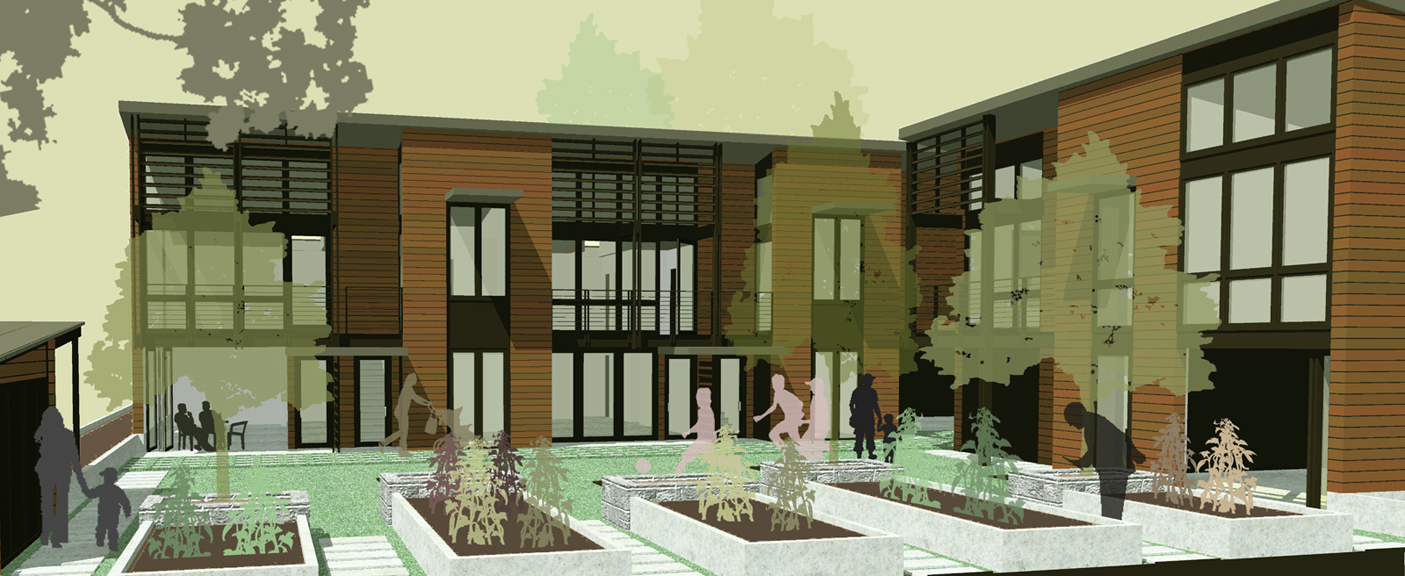 COURTYARD HOUSING COMPETITION
LOCATION: PORTLAND, OR
SIZE: 10,000 sq' lot
STATUS: COMPETITION - COMMENDATION
In 2007 Portland, Oregon held a competition to look at the problem of medium density housing in the city through the creating of Courtyard Housing. It followed up the city's successful Skinny House competition. The project strives to create a northwest modern inter-generational living solution while concentrating on constructability and livability. Six multi-bedroom units look onto a central court while using basic shed forms and verandas to create privacy and solar shading.
This project was created by Schuyler Smith in collaboration with Armin Quilici.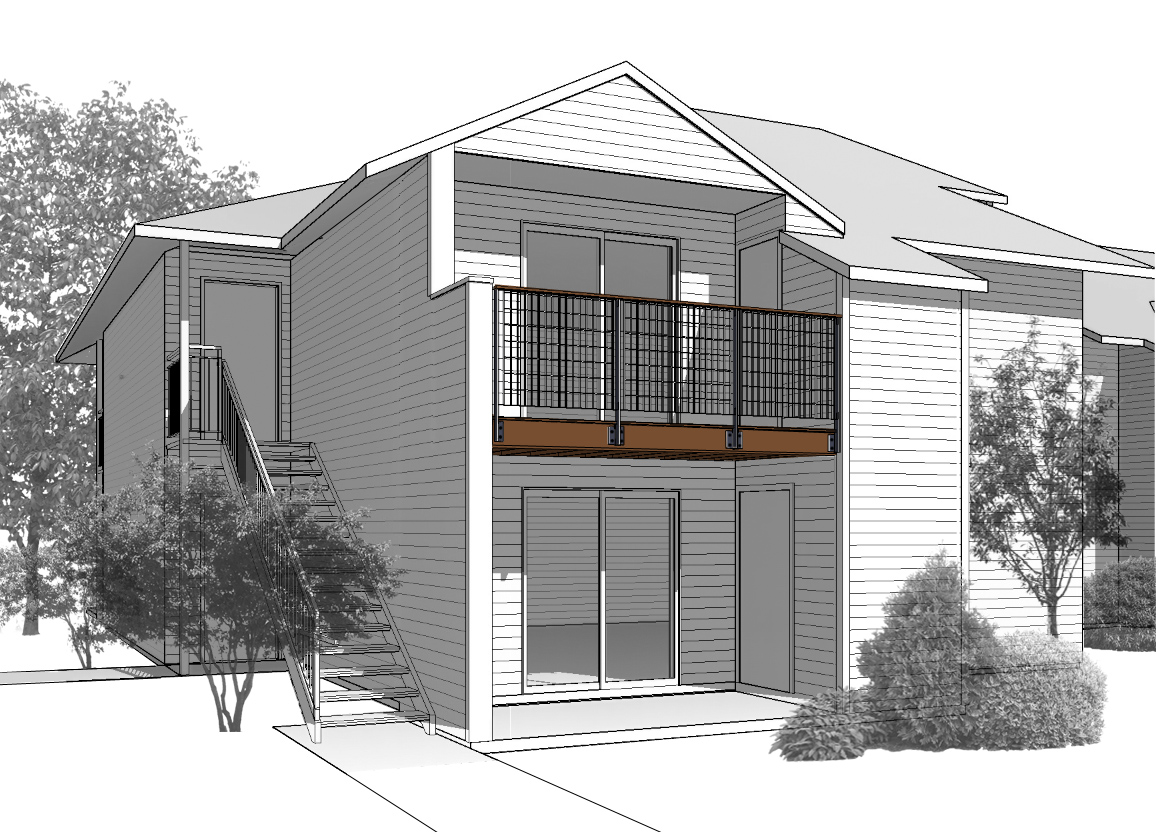 COURTSIDE APARTMENTS & CARRIAGE HOUSE APARTMENTS - RENOVATIONS
LOCATION: PORTLAND & TIGARD, OR
SIZE: 89,000 SQ' & 111,078 SQ' SITES
STATUS: COMPLETED AND EXPECTED COMPLETION - FALL 2014
Built in the mid-90s, these multi-building, walk-up apartment complexes were in need of major exterior renovations. Extensive water intrusion issues resulted in damage to the exterior cladding, storage units and balconies. Polyphon redesigned the balconies, exterior storage units and related waterproofing details to not only update the look of these 20+ year old apartment buildings, but also to reduce the risk of water intrusion becoming an issue again in the future.